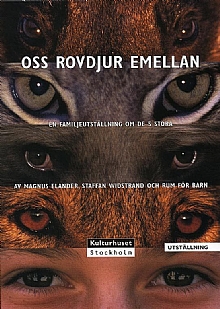 Carnivores Alike
"Oss rovdjur emellan"
- a traveling exhibition produced by Kulturhuset together with phtotographers and writers
Magnus Elander and Staffan Widstrand
Man breeds and slughters animals.
We hunt animals.
We eat animals.
We have done so throughout history.
We are predators too.
Sometimes it is easy to forget.
We want to humbly remind you of that.
Kulturhuset, Stockholm: Sep 2003 – Jan 2004
Kristianstad: Feb 2004 – 9 May 2004
Gothenburg: May 2004 – Oct 2004
Luleå: Oct 2004 – Jan 2005