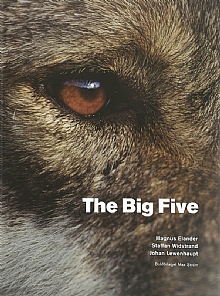 The Big Five
This is a superb portrayal of the Nordic region's scenery and its five large carnivores: wolf, bear, wolverine, lynx – and Man. Photographer-writers Magnus Elander and Staffan Widstrand and journalist Johan Lewenhaupt have been tracking predators closely for years. Unique and intimate pictures bring us face to face with wolves and bears as never before. We are there when the shy lynx and the little-known wolverine venture out from the shadows. The authors have travelled throughout the Nordic region and to Russia, Romania and the United States looking for picture subjects and stories to tell. The underlying theme of the book is the relationship of Man to the other carnivores.
The Big Five was selected by the Worldwide Fund for Nature (WWF) in Sweden as its Panda Book–of–the–Year for 2003.
Authors: Magnus Elander, Staffan Widstrand and Johan Lewenhaupt
Publisher: Max Ström 2002
ISBN: 91-89204-44-1
Also published in Swedish as Rovdjur.
From the foreword by His Majesty Carl XVI Gustaf, King of Sweden
This is an important book for everybody involved with Sweden's nature. It has exciting journalism, striking pictures and vital information about the interplay between Man and wildlife.