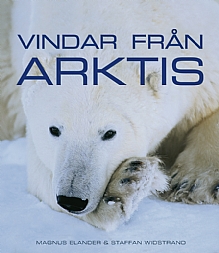 In the Arctic Wind
The North Pole. An ice covered ocean, immense icebergs, vast wilderness and sceneries that can take anybody´s breath away.
Unique animals and charismatic peoples in one of the world's most frigid climate.
But even though just short of a million people live here, the Arctic is on everybody´s lips more than ever before. Global warming, melting sea ice, shrinking glaciers and rising sea levels will affect every human being on our planet.
The Arctic is in focus also because of the International Polar Year 2007-2009, where more than 60 countries participate in a giant joint research effort to better understand the Arctic and its importance to the rest of the world.
"In the Arctic Wind" is an exciting photographic odyssey to some of the most remote and inaccessible places on our planet. It is a mix of topics of the day, wildlife, research, traditional hunting and adventure expeditions.
Welcome to the Far North!
Authors: Magnus Elander and Staffan Widstrand
Published in Swedish as Vindar från Arktis.
Publisher: Prisma 2008
ISBN: 9788-91-518-5168-6
Also published in Danish